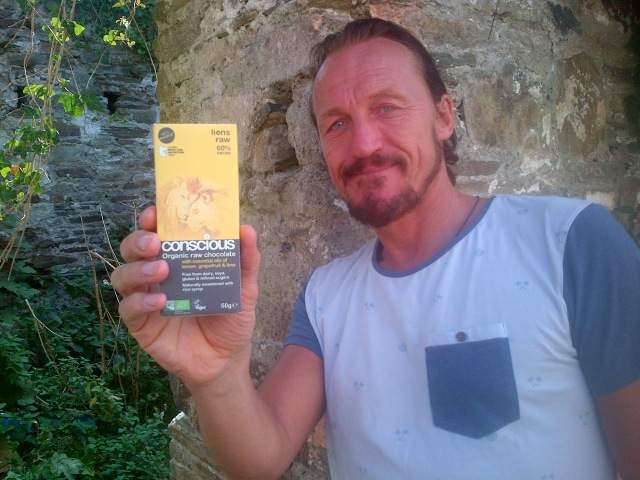 UK Chocolate lovers join battle to save the endangered White Lions
'Game of Thrones' star Jerome Flynn is urging chocolate lovers to join the battle to save Africa's endangered White Lions with a delicious new bar specially created for the cause went on sale across the UK this month.
The Global White Lion Protection Trust (WLT) has teamed up with Conscious Chocolate to make Lions Raw – a melt-in-your-mouth, guilt-free treat crafted from raw chocolate, infused with a zesty flavour of Africa and specially wrapped to spread the word.
As well as highlighting the campaign, for every bar sold a donation worth 10 per cent of the sale price will be made by West Sussex-based Conscious Chocolate to help continue the vital work of the White Lion Trust.
The premium, hand-made, raw organic chocolate  also carries a card inside the packaging with a beautiful picture of the White Lions, telling the story of the White Lion Trust's efforts to preserve the rare creatures which live in the Timbavati region of South Africa.
Actor Jerome Flynn, who also recently starred in BBC drama series 'Ripper Street', is patron of the White Lion Trust and in March spoke in Trafalgar Square during the London protest of the Global March for Lions.
Jerome said: "To save the White Lions, we need to raise global awareness of their sacred power and beauty – and how close we are to losing them in the world. Lions Raw will help us grow support and motivate more people to prevent this disaster before it's too late."
Lions Raw has gone on sale at independent health food shops and farm shops around the UK, including outlets across London and is also available at the online stores at both www.whitelions.org and www.consciouschocolate.co.uk.
Suitable for everyone, regardless of dietary requirements, Lions Raw is – like the rest of the range from Conscious Chocolate – an organic, raw, vegan bar, free from dairy, soya, gluten, fructose and refined sugars. The bar is made with 60 per cent cacao solids and the essential oils of lemon, grapefruit and lime.
The founder and managing director of Conscious Chocolate is Emma Jackman, who leads her small but dedicated and inspirational team of six at the company's base in East Grinstead.
She explained: "As a company our values are integrity, health, beauty and trust, so we are aligned to and excited about working with the White Lions. We want to give something as a contribution to these beautiful creatures and to help raise people's consciousness of their shamanic value.
"After talking to the people at White Lion Trust we soon realised that for Lions Raw we had to come up with a flavour representative of Africa, and in particular South Africa. So we went for essential oils to create a zesty taste with a lemon and lime theme."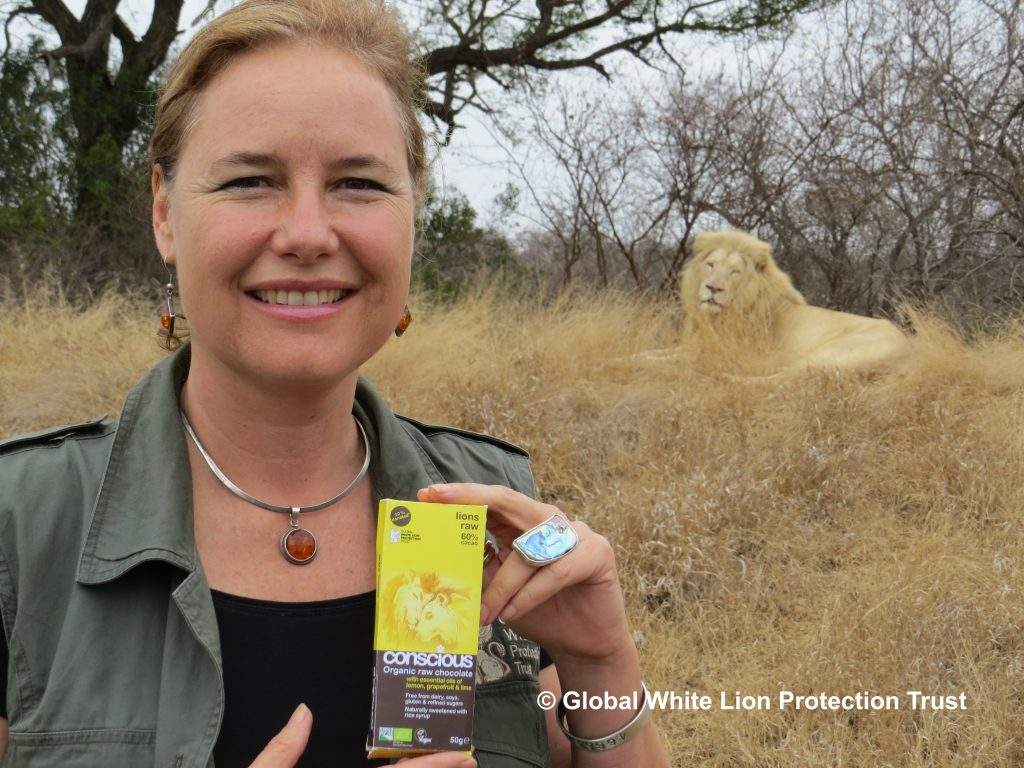 The White Lion Trust was founded in 2002 by former catwalk model Linda Tucker after she was rescued from a terrifying – yet inspirational – night-time close-encounter with a lion pride when her safari vehicle broke down and was surrounded by the animals.
This led to her uncovering the threat of extinction of the White Lions due to issues such as "canned hunting" where trophy animals are specially bred in cages and released only to be shot. As hunting White Lions is still legal in South Africa, the prized White Lions are under constant threat from poachers too.
Last year Linda exposed the issue of canned hunting and its threat to white and golden lions to a gathering of political campaigners at the House of Commons.
Linda explained: "Lions Raw is an authentic and powerful way to spread the word about the battle to save the White Lions and at the same time raise money for our vital work. The chocolate is organic, delicious and the wrapper design is stunning.
"Linking up with Conscious Chocolate, whose customers are as environmentally aware, responsible and principled as the brand, is perfect for us. We hope that by putting the plight of the White Lions directly into people's hands we'll be able to recruit even more support."
"We are also extremely grateful to the team at Brand Magic, who have donated their resource and expertise to launch this product. The design company from Milton Keynes have kindly created and donated all the graphics for the packaging of Lions Raw, with a result that it is certainly going to catch people's eye."
As well as their unique beauty, the White Lions also possess a special place in the local culture. Their colouring represents purity and enlightenment, and according to African legend they are heavenly creatures sent down with a message for mankind.
But with only about 500 White Lions left globally in captivity, they are technically extinct in their natural habitat. However, Linda has succeeded in securing 2,000 hectares of the lions' homeland in the Timbavati region; fenced, guarded and maintained by a security team.
The White Lion Trust works closely with the local community in the Timbavati region, which is a poverty node in South Africa. To ensure their work is sustainable the White Lion Trust educates and trains the next generation of environmental leaders. It also honours the community in protecting the cultural importance and heritage of the White Lions to the local people.
To buy your bar today and support these sacred animals visit our UK Website.