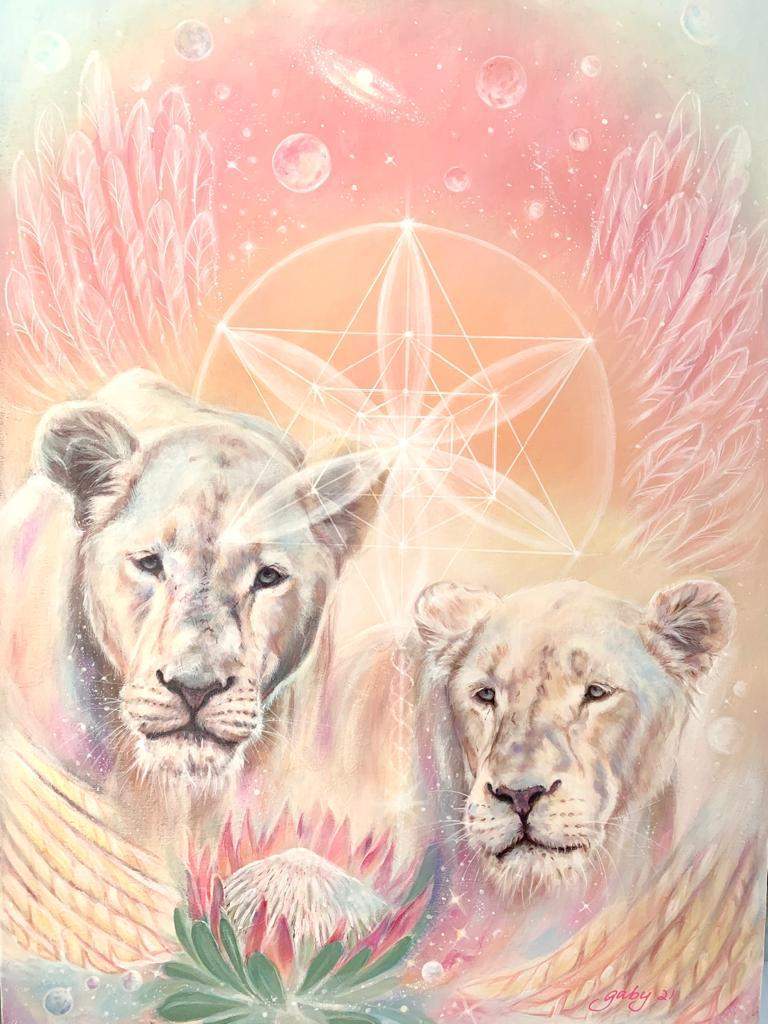 Sacred & Wild Auction – Artwork by Gaby Hansen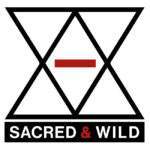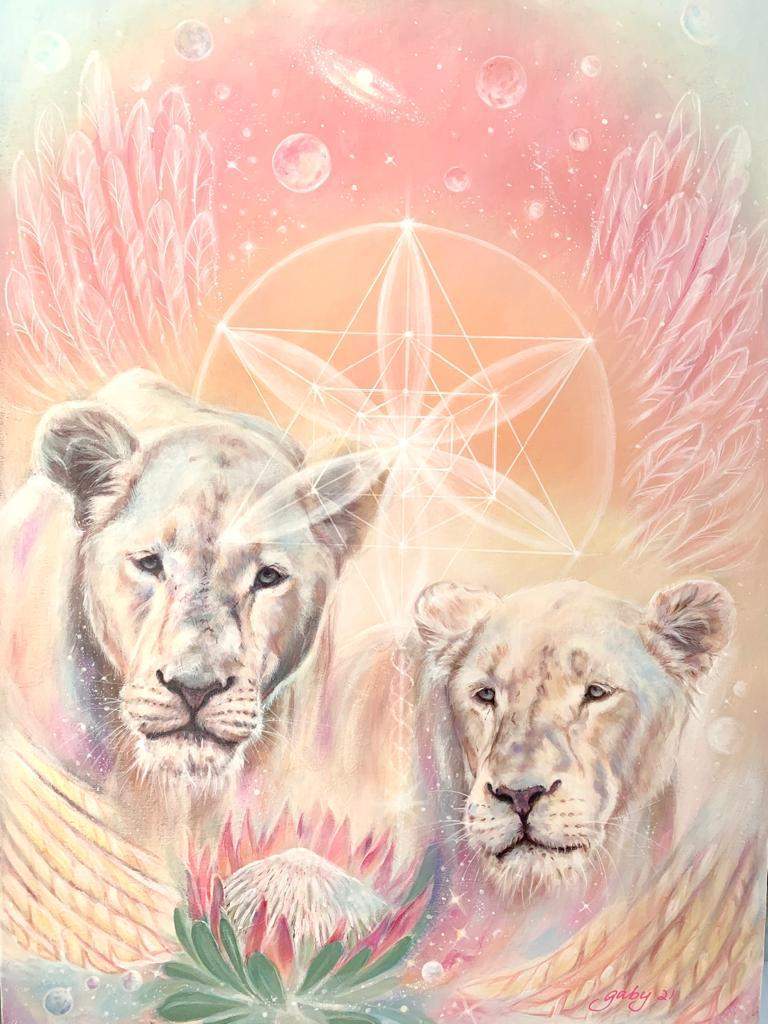 South African artist, Gaby Hansen, was inspired by the story of the lioness sisters, Alpha and Omega, to paint their portrait in order to assist in raising funds for their life-time care.
We are auctioning this beautiful piece of art online, in support of the Global White Lion Protection Trust's
"Sacred & Wild" Campaign.
Details and Rules of the Auction
START date: Sunday 22nd August 2021 @5pm South Africa time (GMT +2).
Bidding takes place on Facebook.
END date: Sunday 29th August @5pm South Africa time (GMT +2).
The highest final bid will be the winning bid, and no early or late bids will be accepted.
Email bids will be accepted, and updated on the Facebook post accordingly.
Email: auction@whitelions.org
Bids must be placed in U$D
All bidding increments must be a minimum of $20
The starting bid and reserve price on the artwork is $1400.
The winner will be responsible for packaging and shipping costs from Spain, in addition to the winning bid.
Shipping costs will vary depending on destination country, but is estimated between $120-220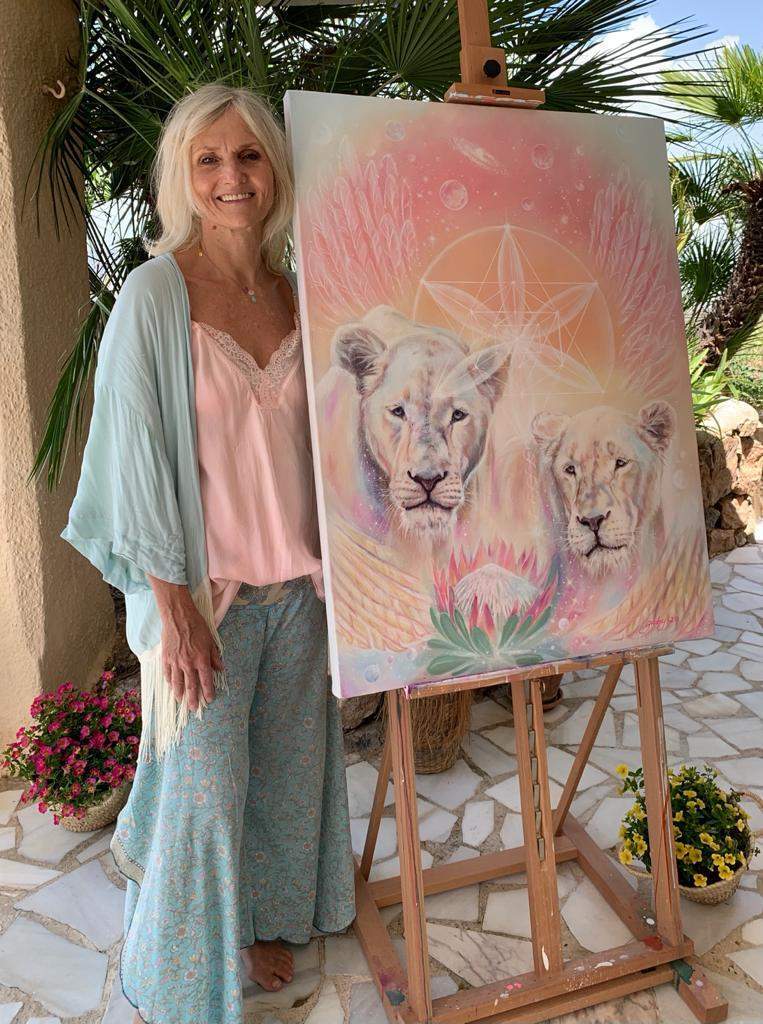 Gaby explains the creative process of the painting:
"The process of this painting was a rather unique and somewhat mystical experience which I will touch on briefly.
Initially I had an inspiration to paint a portrait of Alpha and Omega in a specific way—stronger colours and more African in its feeling. 
After a few days of following this plan, something did not feel right. I was not able to paint without a strange sense of heaviness and things started to go pear shaped with the painting in a physical way. It was around this point that on one particular day as I was laying back and had my eyes closed that I suddenly saw a part of the painting in front of me. The look and feeling of it was pure Light. I was so surprised that it shocked me out of the moment. It was then I understood that I was being shown how to proceed. The current size of the canvas, the image and the colours were clearly not in alignment.
From that day forward everything transformed, and I started again with a fresh, larger canvas. Every couple of days I was shown each part of the image. So, I set out to find the symbols. The entire canvas was to become softer and lighter. Hence the final colouring. 
At the same time, I was inspired to create a sense of ceremony before each painting session which honoured these beautiful beings. It was incredibly moving to feel the presence of the sisters before I started painting each day. The canvas was sprayed daily with flower tinctures, and it was painted with mineral and flower tinctures…following the guidance that was being offered to me."
Further explanation on the imagery used in the artwork:
The patterns within the painting represent symbols of Sacred Geometry, which show how everything in the universe is interconnected. Each symbol represents aspects of sacred knowledge and the underlying truth, love and beauty in all life.
The DNA symbol signifies many things here, one being that information flows between the celestial and earth and that no illness or disease is beyond transformation by the Light.
The Protea flower, besides being the national flower of South Africa, home of the White Lions, is also one of the oldest flowers on earth. It symbolises transformation and courage. The flower also resembles a star and is connected to higher crown/soul star chakra, or energy centre.
The White Lions are Holy and sacred beings in this world; they are Star-Lions, connected to the intelligence of the Light and universal consciousness that connects all that is. They represent the integral virtues and sacred principles that belong to the heart.
The Message:
"After my mystical painting experience, I believe this image has within it visual messages that bypass the mind and unlock doorways within for whoever is open or ready to receive them.  
Alpha and Omega are guardians of an entrance, a sacred etheric doorway that is found within.
In order to pass through the doorway, one has to align and become the same frequency as that of the doorway—otherwise you will not be allowed to enter. This requires true reverence, presence and patience. We cannot fake our way in. 
We have a responsibility at this time to wake up, become aware and align to the principles of Truth and Light. To live a conscious, awake life filled with a reverence for Nature, all of existence and the interconnectedness of all of life. To know that we are Earth and not just living here.  
Be receptive, open and listen to the wisdom of the heart. As our energy becomes realigned to Light it speeds up and our consciousness expands."
Artist's Bio:
Gaby Hansen was born and raised in South Africa and now lives in Spain.
She studied and worked as a children's book illustrator for many years.
Her deep love for nature, life and the oneness of all things have over the years have shown her ways to create from a place of listening to the heart and devise images that bring beauty and inspiration.
"I believe in living with integrity and limitless love… to look with the eyes of the heart and to listen with the ears of the heart and know that whatever awakens us to the Truth is the way."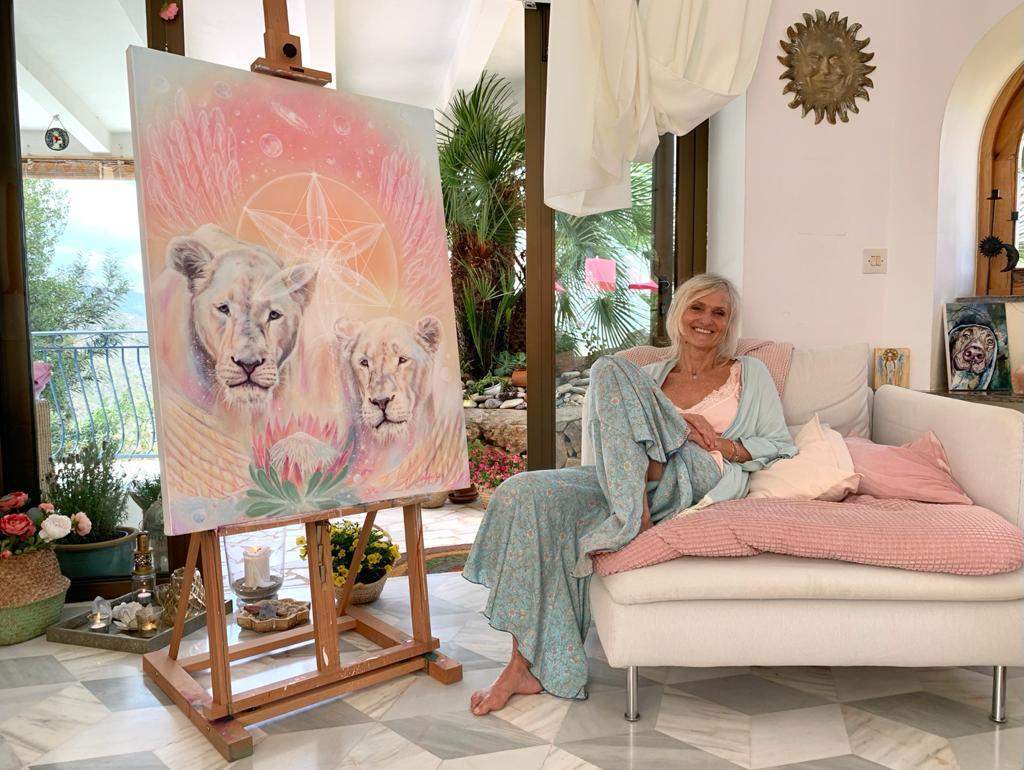 Terms of Agreement for the Online Auction:
 You must be at least 18 years of age and able to form legally binding contracts under South African law.
When you place a bid online, you enter into a legally binding contract to purchase the item from the seller if you are the winning bidder.
You are the winning bidder if your bid is the highest bid at Auction Close and your bid is accepted.
Bidding increments must be a minimum of $20.
Payment must be made within 24 hours after you have been informed of your winning bid. Failure to do so will result in the second highest bidder being offered the item at their highest bid.
Payment Terms:

If you are the winning bidder, you will be contacted by Facebook or by email to be informed of your success, and will be instructed on how to make payment.
If you are a winning bidder, you agree to pay the Global White Lion Protection Trust the full amount of your winning bid, as well as any applicable shipping or delivery charges.
You agree to make payment via the Global White Lion Protection Trust website, which accepts payment through Paypal (by Paypal account or by credit/debit card payment).

Bidders participating in any online auction must be aware that the auctioneer cannot accommodate for slow or lost internet connections or the variable delay between bids placed online. The highest bid recorded on the online system at the end of the auction will be "accepted" as the final bid. It's up to the "bidder" to make sure that their bid is recorded onto the Facebook post or by email. The auctioneer cannot guarantee up-time on the system. Please Note: If you are bidding from a foreign country, please be aware that the time zone for the auction is GMT +2 (South Africa time)