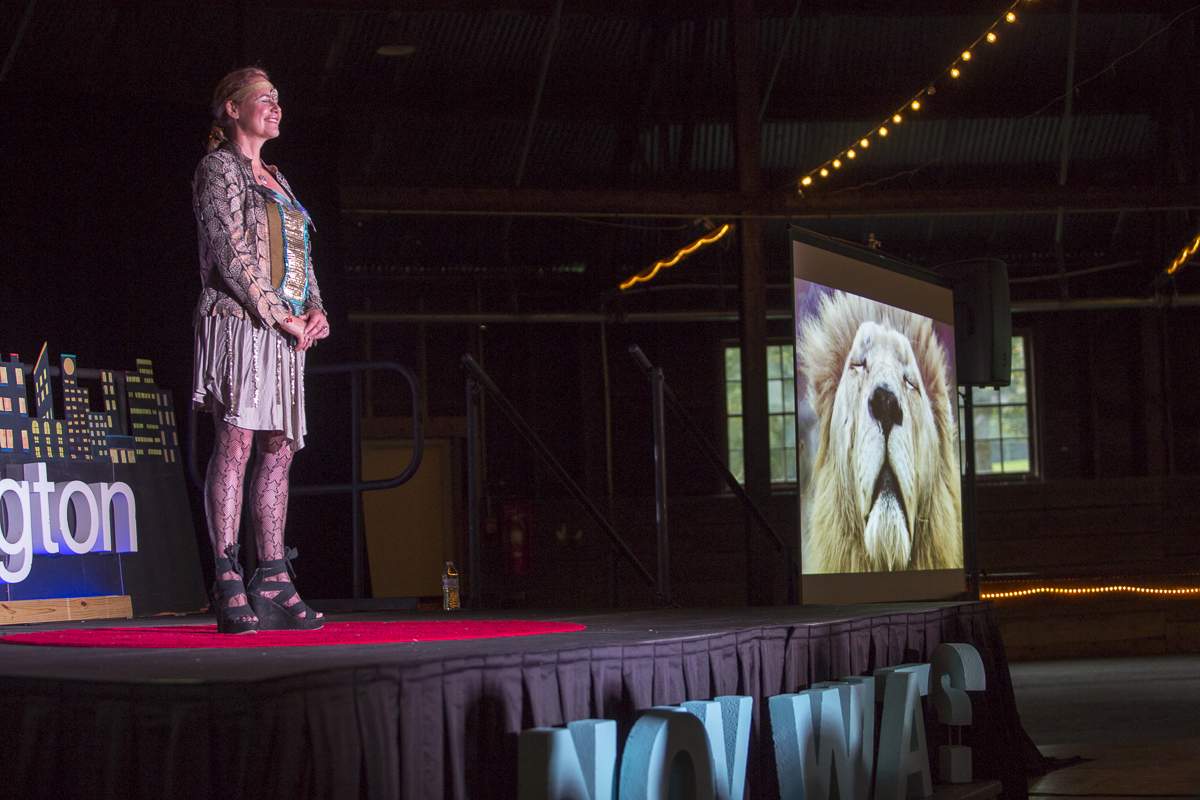 Ignite Your LionHeart Tour
Ignite Your LionHeart Tour – last quarter 2018
The second overseas LionHearted Leadership™ tour of 2018 started in late September with a real game-changing experience – my first TEDx Talk!
"Until the Lion learns to speak, the story will be told from the hunter's perspective."
This Ancient African proverb was the inspiration for my TEDx Talk, held in Wilmington Delaware USA. I've presented on my life with the lions in many daunting contexts –  including TV interviews, trophy hunting forums and British Parliament – but this was the first time I told my story from the Lion's perspective. If you haven't already seen my talk, please click here.
It is designed to "Ignite YOUR LionHeart" – because I speak for the lions.
Incredible experience. It was an event filled with ideas worth spreading, during a time when the world needs it most. A huge LionHearted thank you to all of our friends and supporters who attended in person and watched the Talk from across the globe. Deepest thanks also to the inspired organiser, Ajit Mathew George, and the dedicated TEDx Tribe from the entire White Lion Pride.
Next, I crossed back over the pond to London for a very special fundraiser, held in the beautiful and historic St Ethelburga's Centre for Reconciliation and Peace.
Here I shared my TEDx Talk with our wonderful UK supporters, and explained some of the next critical tactical steps that the White Lion Trust is taking to shut down the cuddle-and-kill industry. The delectable vegan treats for the evening were sponsored by Vegan Nation – a revolutionary global community dedicated to bringing wholesome, cruelty-free living into the 21st Century. We are so looking forward to working together with Vegan Nation in the future, particularly after we introduced our Patron,  Jerome Flynn (Game of Thrones Star) to this cause. More about Vegan Nation here.
The evening was not only thoroughly enjoyable for us humans, but also hugely beneficial for our Lions, as we managed to raise over £5,000 through the evening's fun raffle competition and silent auction! The lovely and ever generous Karen-Jane Dudley donated a collection of stunning photographic prints of the Royal Pride, and long-time supporter and Listed Artist, Joanna May, donated a very special Limited Edition print of her artwork – Spirit of the White Lion. A huge ROAR of thanks to everyone who made the night a success – and in particular, Julie Lines, our Director of the UK Office these past 3 years, who organised everything down to the finest detail, and as a next step will be taking a period of deep rest and recovery.
After my brief time in London, I hopped back over to the USA to host a wonderful weekend workshop with renowned animal communicator Joan Ranquet, entitled "Ignite Your LionHeart". Here, we convened a group of "StarLionesses" – a wonderful Pride of strong enthusiastic women, who are inspired to assist our project through combined expertise in social media and event management, focusing on Jason and my tour for September and October 2019. I'm so thrilled to get a chance to work closely together with them in these exciting times!
After diving deep into our intentions and brainstorming crucially important tactical steps at our weekend workshop, it was time for a celebration! On October 14, the heart and soul of Los Angeles pulsed with the double heartbeat of the StarLions and Elijah Ray's Music of the Spheres, at a benefit concert in support of the White Lions. The night was hugely enjoyable, and everyone left with Hearts full of inspiration.
A few days later, Jason joined me in San Rafael, CA, where we were honoured to present at Bioneers 2018. Our workshop, entitled "What We Can Learn from the Legendary White Lions" was a huge success, and we felt privileged to be in the company of so many fellow environmental warriors and change-makers, each of whom had riveting and vitally important messages, which are achieving radical transformation.
Thank you to all who generously hosted and assisted our awareness- and fund-raising efforts.
Back on South African soil after almost 6 weeks away, I had the privilege of presenting at the Global Youth Awards in Cape Town. The Global White Lion Protection Trust offered three prizes of LionHearted Leadership™ training to inspiring winners in the Environmental Rejuvenation category – we can't wait to see the next generation step into their purpose and inspire change!