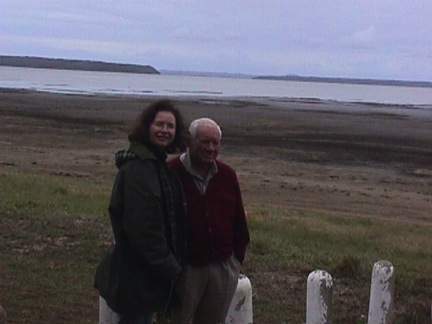 Passing of a Conservation Legend
CEO of the WLT, Linda Tucker, with her beloved mentor
Our LionHeart reaches out to all who knew and loved Dr Ian Player, most especially to his beloved wife, Ann, their daughter Jessica, the Player family and extended family around the world, both human and animal.
Dr Ian Player was Patron of the Global White Lion Protection Trust, and founder of most of the world's leading conservation entities: The Wilderness Foundation, Wilderness Trust UK; The Wild Foundation USA; Magubu Ntombela Foundation, Founding Trustee of Open Africa; and Patron of Wildlands Conservation Trust, amongst others. Almost 5 decades have passed since he founded the World Wilderness Congress with the intention of uniting all conservation groups behind the same cause: the Battle to save our Earth. He was, after all, the foundation of world conservation. He advised governments; raised millions of dollars for conservation and wilderness programmes; fought and won significant conservation battles; and was the recipient of numerous prestigious awards and two honorary doctorates, one in law, one in philosophy. He was also a prolific writer, prepared to share with the world a lifetime of critical conservation campaigns and fireside tales. The Battle for the Earth continues more urgently than ever, but the reason we still have St Lucia wetlands and white rhino to protect is, after all, due to Ian Player's blood, sweat, tears – and masterful abilities to unite others behind the same cause.
His profound love for the African spirit and landscape was rooted in his life-long struggle to save the wilderness of Zululand and in his soul bond with his Zulu compadre, Magubu Ntombela, an unbreakable friendship which spanned the challenging Apartheid years and bridged man-made divides.
Preparing this Tribute for my beloved friend has taken me deep into so many memories of times together, and all that he represented for me by way of mentorship and deepest communion with the Great Spirit in Nature in some of the world's wildest and most beautiful wilderness regions. The Fish Eagles have been calling and the Lions roaring over these lands ever since his departure.
May they resonate in majestic physical presence here, always and forever, for our great grandchildren and their great grandchildren and their great grandchildren, and beyond…
The Fish Eagle was, in fact, one of Ian Player's greatest totems, and I recall him sounding their echoing cry in the Queen's Gate Cathedral where he presented in London. It shattered the silence. I thought at the time: It takes a LionHeart to do that – sound the echoing cry of a fish-eagle in the midst of an austere Christian church – and yet it was so very apt. If only all humanity, Christian, Moslem, Hindu and Atheist alike, were to hear the message of the Fish Eagle, we humans would be worthy of this world.
It is hard to describe the enormity of what he meant to me, and the depth of his wisdom and guidance in my own life's struggle for all that is sacred in nature, most particularly the King of all animals, who's indignities at the bloody hands of human cruelty at this time are beyond imagining of anyone who still has a heart.
He advised me on conservation strategy, media tactics, people politics, administrative structures, charitable aims – but most of all we shared our dreams and visions of a better future for this planet.
He saw the essence of the issue, the strategy, the crisis of our times, and never failed to warn us, his best friends in the conservation struggle against separate agendas: "The problem with conservation today, is conservationists."
Noel de Villiers, Founder of Open Africa and advisor to the White Lion Trust, who's unfailing support of Dr Player's campaign to save St Lucia triumphed against the greatest adversity, describes a quality we were so privileged to know in Ian:
"If one could call Ian Player your friend you occupied a very special place, for here was a man whose understanding of loyalty was to stand behind you no what the circumstances may be."
We will all miss him unfailingly, but his wisdom calls to us now not only through the Fish Eagle – but from all of nature.
In those last years, albeit his pain-wracked body was fading – a long-standing legacy of spinal injury due to his heroics in bringing down and translocating rhino from horse-back in the early days – his mind remained clear and true. He saw equally deep into his wilderness landscapes and inner worlds.
Just over a month before his death, he asked me to review the first chapter of the latest adventurous autobiography he was writing on his early wilderness experiences. This first gripping chapter unfolded like a fireside tale, shared around the camp fire he had tended to over so many starlit nights in Africa. I advised him that he shouldn't edit a single word. The story-telling was immaculate and as clear as a crystalline mountain stream. Sadly, this book may be left unpublished, but it's good to imagine him enjoying writing the rest of his story now…
It was Dr Ian Player who introduced my own work to the world in 2001. He gave the speech at the launch of my book, explaining why he believed that
Mystery of the White Lions to be a "phenomenal book that comes at a critical time in African environmental history."
He later published a deeply insightful review in which he wrote:
"Mystery of the White Lions is a call to the soul of Africa to take the White Lions seriously. It has a spiritual aura of the African continent of which so many of us are aware but can't put into words. It gives us a glimpse of our ancient ancestral landscapes, into the hinterland of our minds from where we all came."
He understood the heart and soul of my own life-time commitment to the White Lions, and held my vision of the return of these great animals to their ancestral Heartlands of the Timbavati region as a "landmark in conservation history" – and the restoration of Natural Order on earth.
Immortalised in the National Geographic documentary entitled 'Return of the White Lions', he put it clearly:
"The Lions are back in their ancestral habitat, thanks to the efforts of the Global White Lion Protection Trust. The rest is human politics."
Hailing from man's world of game rangers and khaki bravado, he was undaunted in standing for the sacred feminine and spirit in nature, even though he joked when others badgered him: "What is this 'spirit' you keep talking about, Ian? Brandy, whisky, witblitz?"
Given his honoring of Great Spirit which he referred to respectfully in Zulu – as "Nkulu Nkulu" – in an ever-deepening exploration of the signs and symbols in nature and in dreams – it's no surprise that many of his closest friends where Jungian analysts, astrologers, and even mystics. Consequently, it was fitting that Dr Ian Player delivered the speech at the intimate memorial service for famed symbolist author Laurens van der Post, Godfather of Prince William and Prince Harry, which was attended by HRH Prince Charles.
I was fortunate enough to attend this event, and, like Prince Charles himself, was brought to tears by Ian's unashamedly passionate tribute to his beloved friend. I only wish we could do him proud, in the same way.
Based on the conservation battles that he fought and won, often with the strategic help from the press, Ian knew how to pick his most strategic moment.
Equally, in choosing his time of departure from the earthly plane, he did so with impeccable timing.
Below is a brief summary of the stellar alignments at the moment of Ascent of our conservation Hero; clearly his adventures and commitment to serving Creation have only just begun….
Thank you to astrologer friends, Alison Effting and Maurice Fernandez, for their expert input in identifying the great significance at his moment of departure when the Sun was at "Mid-Heaven":
Ascent of a Conservation Hero:
12 noon Sunday 30 November 2014:
The moment was the Day of the Sun, the Hour of Mars
Jupiter 6th House in Leo; Significator for the horse-back Hero: Lord of the Ascendent and Mid-Heaven.
A wounded Lion of great dignity, the brightest light of the night sky, lies physically disempowered in the house of sickness or health, yet remains a master of his destiny. This was a conscious passing, with the Sun at the Mid-Heaven, spiritual essence in mutual reception with the physical being.
The Sun at mid-heaven moved to conjunction with the Royal Star Antares. Star of Archangel Uriel – the Fire of God – Watcher of the West, signifying the spirit of adventure.
The position of Jupiter signals the adventurous centaur, half-man half horse galloping into greater horizons…
Accompanied by the Royal Star Formalhaut, Star of Archangel Gabriel, Watcher of the South, this star also signifies fame, great and lasting honours.
Here is a beautiful memory shared by a mutual friend, astrologer Melanie Rheinhart, on their time in the wilderness together:
http://melaniereinhart.com/Healing-Wilderness.htm
The statement issued by the family is deeply appropriate: that Dr Ian Player passed over gently to the other world, to be greeted by those gone ahead of him….
The ancestors waiting to welcome him indicate great beings united in purpose to serve the restoration of Natural Order on our planet.
Clearly, the work of our sacred warrior is far from over…
Advisors to the White Lion Trust and dear friends, Dr Ian Player, and High Chief Francois Paulette
Below, are the words of advisor to the Global White Lion Protection Trust, High Chief of the Canada's Dene Nation, Francois Paulette, who lamented the loss of his great friend. The retired High Chief of Canada's largest first nation's people will be travelling from the furthest reaches of Canada's North West wild buffalo territories to join us in Tribute. He received the news on the night of Ian's passing:
"This evening as we were having Sweat lodge ceremony, I was told of Dr. Ian Player passing. Much prayer has been said and extended to his immediate family. My deepest condolences to many of the People and Friends in his beautiful land. He will be dearly missed by the four leggeds, the wingeds and the Natural world he embraced. I will miss him…
High Chief Francois Paulette extends love to us all at this time, "as you prepare to assist him into moving into a place above, in the world of the Grandfathers."
As the baton is passed on to us, may we continue Dr Player's legacy for unconditional love and service of our wildlife and the future of the planet. Just as he stood vigil over many a flickering camp fire, so his flame lives on in us all…may we be worthy torch bearers for the Wilderness and all in spirit and form that this brave man so fearlessly fought for…"
In love and solidarity,
Linda Tucker
CEO and Founder, Global White Lion Protection Trust