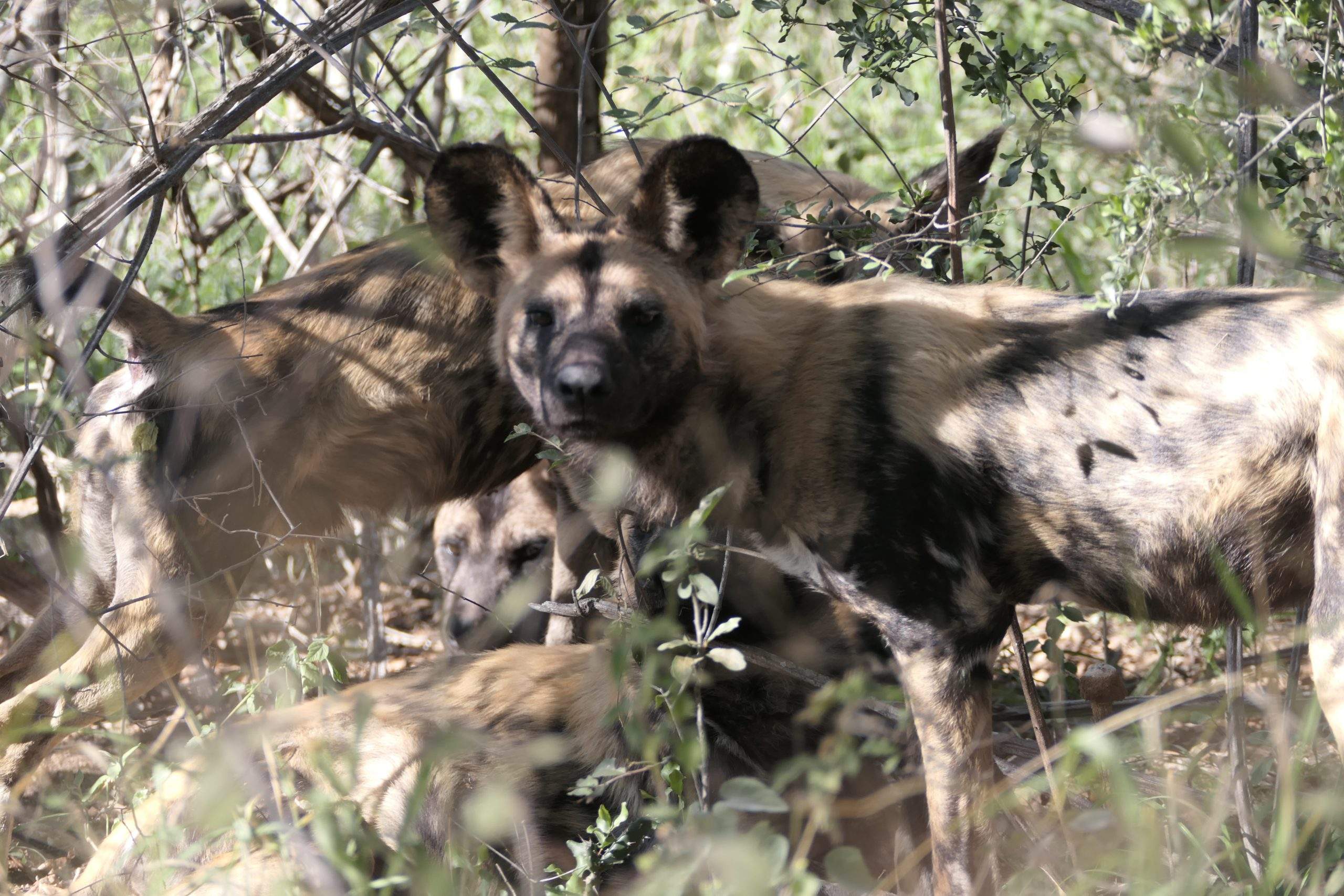 Celebrations on the banks of the Klaserie River
For those united in the tireless battle to save our burning planet, there is seldom cause for jubilant yowls of victory – especially when it comes to species extinction and the critically endangered survival of the underdog. Yet, against the odds, here's a story that will get our wolf pack happily howling…
When news broke of a new industrial citrus farming development on the Klaserie River, which serves much of the Kruger National Park ecosystem, many conservation entities were united in outcry. Led by Elephants Alive, the risks, not only to elephants, but also to countless vulnerable and endangered species, many of which have not yet been listed on the IUCN Red Data list, were exposed.
Industrialised farming with its poisonous chemical-based monocrops is notorious for destroying soils and polluting groundwater. Ecological surveys of the site warned that irreparable damage would be inflicted on this wildlife region – including the Kruger National Park downstream – if the project was allowed to proceed. Nevertheless, the development was granted permission, and the citrus giant's large-scale initiative geared up to extract more than 2-Million cubic meters of water annually from the only perennial river serving one of the world's most sensitive biodiversity hotspots: a UNESCO-declared "Biosphere" region.
It seemed the only way to try to halt the development was to seek legal remedies. However,  South African law has few instruments available to protect the rights of nature and the brooding lawsuit, likely to involve millions of Rands, which would otherwise be well spent conserving wildlife, could not guarantee a successful outcome.
Then, when the citrus conglomerate's project was temporarily halted by business rescue practitioners, a small but long-standing conservation entity in the region seized the opportunity to purchase the stricken land.
Situated upstream on the Klaserie River, the Global White Lion Protection Trust has a two-decade track record of creating mutual benefits for lions, land, and people by implementing a multi-level cultural ecology model which conserves the White Lions as a living heritage endemic to this region.
There is a long road ahead to regenerate the habitat which has already suffered serious damage, due to approximately 120 hectares of indigenous vegetation being cleared for the planting of citrus. However, the Global White Lion Protection Trust has a history of successfully rehabilitating wilderness areas, having restored the natural bushveld on three other land purchases on the western border of the Greater Kruger Park region. One area of land, purchased in 2004, was a mango farm with radically depleted soils, run-away erosion and damaged vegetation. In line with this organisation's ecological strategy for the conservation of lions, the land was regenerated into natural bushveld, so that an integrated pride of White and wild golden lions, could be reintroduced to the region from which they originated.
While the Global White Lion Protection Trust recognises that the land recently rescued from the high-impact citrus development is unsuitable for a self-sustaining pride of lions in its current size and state, the organisation's strategy is to halt this agro-industrial development for the benefit of biodiversity conservation within the entire region.
Speaking from their Head Quarters upstream from the development, CEO and Founder, Linda Tucker, says:
"While we acknowledge the urgent need for food production in South Africa, the establishment of an old-style, monoculture development in one of the most critically sensitive biodiversity areas in the world would have been an utter disaster and set a dangerous precedent. To create harmonious coexistence between people and planet, we must think from an ecocentric or Earth-centred perspective rather than the old-style egocentric, extractive and consumptive-use model. South Africa is in a position to become a world leader in new-paradigm regenerative agro-ecology, which would create large-scale rural livelihoods on the borders of our wildlife areas, and protect the future of all species, including humans."
Since its founding in 2002, the Global White Lion Protection Trust has focused on White Lion conservation, as this genetic rarity was forcibly removed from its wilderness habitat for a documented period of more than 6 decades. In 2007, the pioneering conservation organisation initiated the search for the White Lion genetic marker, which was finally discovered after six years of collaborative genetic research in seven different countries and comparative studies involving golden lions, snow leopards, white bear of British Columbia (Ursus Americanus Kermodeii) and Siberian tigers. The Trust has also recently acquired a wilderness area of some 4000 hectares on the borders of Makalali Private Nature Reserve, where a rewilded pride of integrated white and golden lions from the region will be self-sustaining.
A primary objective has always been to ensure the flourishing of wildlife areas within the White Lions' endemic range – thereby not only ensuring the viability of this critically rare genetic variation of Panthera leo, but also, its countless associated biodiversity species dependent on the life-giving Klaserie River for their survival.
Appropriately – and with a great deal of chirping and excited yowling – within days of securing these territories for nature's sake, a pack of fifteen African wild dogs (now known as "painted wolves") settled into the newly reclaimed lands. The pack has now denned so that the alpha female can deliver a litter of precious pups, closely monitored by ecologist, Grant Beverley, heading the Endangered Wildlife Trust (EWT)'s carnivore conservation project, with whom the Global White Lion Protection Trust has a collaboration. Their close social bonds mean that the secondary females are also starting to lactate, to help suckle the new-borns. Scientifically, the pack is referred to as LP-BY01/2022 – but in celebration of Nature's victory in reclaiming these bushveld territories the underdogs are widely known as The Sunlands pack! Classified the second most endangered canid on the African continent, these rarities have found a much-needed safe-haven alongside multitudes of other rare and critically endangered species that will hopefully continue to form a vital part of South Africa's protected living heritage for future generations.