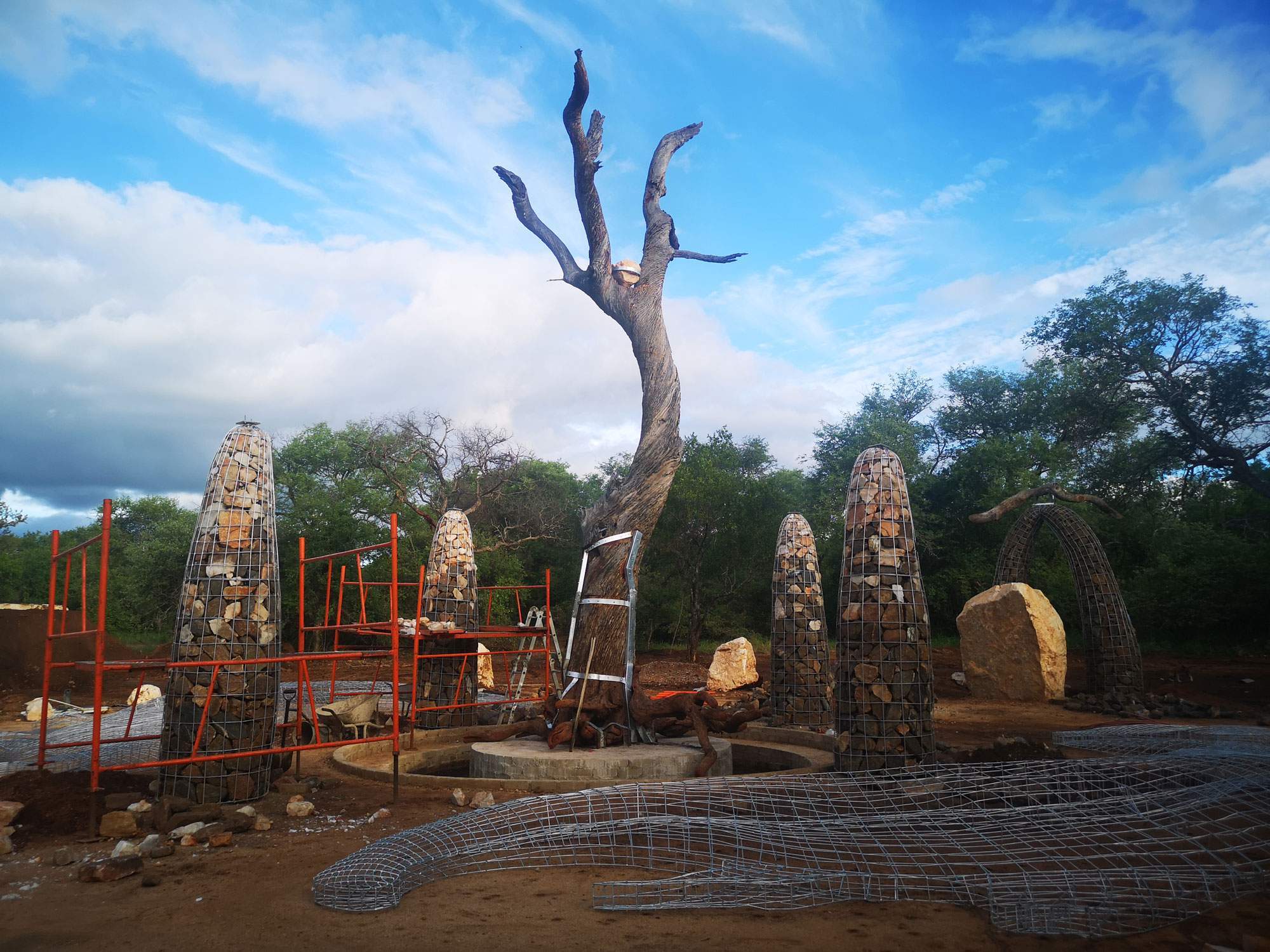 A Temple to Honour Mother Nature
As you probably know, the White Lion Heartlands on the golden leyline of the Nilotic meridian has been recognised as a Sacred Site for many hundreds of years by African kings, and last year was officially declared a founding Sacred Natural Site by ASSEGAIA: Alliance for Sacred Sites of Earth Gaia. Given this auspicious and prophetic history, it's no surprise that many incredible, legendary things happen on the lands.
In the Heartlands, where our entire team spent the COVID-imposed lock-down on-site, with all visits to White Lion territories at a standstill for the entire year, our project focused on building a Sacred Temple on the Sacred Site. Since many of our staff were effectively out of a job, including our beloved chef Enelani and lodge manager Agnes, we set about planning how all skills could be turned to laying the foundations for what will become more than a national monument. Like a phoenix rising from the ashes in the heart of the White Lion Kingdom, the intention for this Template is to honour all living kingdoms, to create a meeting place for all cultures and creeds of humanity who serve Nature in loving reverence.
We have already raised some funds toward this goal, and building is underway for this Sacred Temple – the architecture for which has been designed by world-renowned South African sculptor, Andries Botha.
Andries has exhibited in city squares throughout the world. His monolithic work pays homage to animals eradicated from their place. In 2012, in the heart of the Sacred Natural Site, he constructed a monumental White Lion Sphinx built from 5-tons of pure King Crystal, with the intention of restoring pride of place to the White Lions and reawakening LionHearted Leadership™ in humanity.
Now, honouring the sacred geometry within Nature's template, the architectural visionary artist has responded to Linda's mission once again by representing all kingdoms in the heart of White Lion territories. In an unprecedented act of inspiration on a monumental scale, he has taken up the challenge of constructing the Temple. Using huge, ancient twisted fallen leadwood from the land as structural pillars, we know that this temple will be a truly magnificent heart to the infrastructure of the Heartlands.
So, dear friends and supporters, we are proud to share the unstoppable spirit of LionHeartedness in the face of adversity, and our vision for the future. With deepest enthusiasm, we invite you to join us in funding the construction of this beautiful bushveld Temple, which is designed to last for 7 generations. Please feel free to donate any amount you feel called to – any donation will be warmly appreciated.