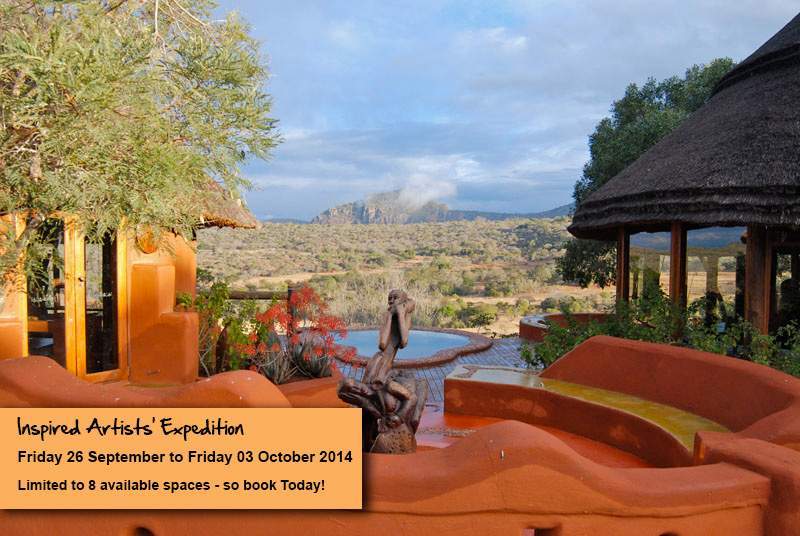 Inspired Artists' Expedition in support of White Lion and Rhino Conservation
8-Day Itinerary
**Only 8 places available**
R19 500.00 per person sharing
Join us for an artistic excursion of a lifetime: deep into the wildlands of Venda – rhino country and enclave of the world's greatest indigenous wood sculptors – then travel south along the golden Nile Meridian to the Heartlands of White Lions, nature's King of Kings, and inspiration to artists around the globe.
Our expedition begins from Johannesburg where guests will be collected for the journey north to the magical nature reserve of Leshiba www.leshiba.co.za, situated on top of the Soutpansberg Mountains, Limpopo Province. This unique environment will be the setting for an enchanting, inspiring and life-enhancing journey allowing travellers to tap into their soul connection with nature, cultural mysticism and inner being through the transformative power of art.
The beautiful traditional lodge is converted from an ancient Venda village with ancestral pottery figures of ancestors presiding, designed by world-renowned Venda sculptor and medicine woman, Noria Mobasa.
Leshiba's Indigenous Knowledge Centre, situated in a paradise close to the cliff with endless views, will be your inspirational home for the first three days. The camp is equipped to assist with wood sculpturing. And you will be joined by leading artist and Venda elder, Avashoni Mainjanye, your guide into the world of indigenous art.
Spend your days sculpting, or drawing inspiration from meditative walks amongst wildlife including rhino, leopard, porcupines and pangolins; along spectacular trails through forests, across plains and down breathtaking gorges with sparkling pools, and visiting ancient rock art sites.
The guided archaeological trail at Leshiba offers an enlightening and mystical venture into the past. Leshiba has seven rock art sites where there are Bushman (San) paintings and Khoe Khoe hand and foot paintings and three sites where there is evidence of habitation. The paintings are between 200 and 2,000 years old.
Leshiba rangers have studied the subject extensively and are able to give interesting and insightful information on the lives and habits of the Bushman, including demonstrating the tradition of fire making with sticks. The walk also details the medicinal and useful plants that the Bushman and other African cultures used.
From here we journey home with Shoni to meet with other sculptors in a rich Venda cultural tradition which includes the mysterious White Python and White crocodile, and then we travel south into the heart of the White Lion's Sacred Territory known as Tsau, originating from the ancient Bushman word incantation – "Starlion".

At the epicentre of the massive nature reserve region known as the Kruger to Canyon's Biosphere, in precise alignment with the great Sphinx of Giza due North, the fabled White Lions were birthed by miraculous natural occurrence. Declared a "sacred site", by African Kings for many hundreds of years, due to the mysterious occurrence of snow white lions in this region only, the name Timbavati means "the Place where the Starlions came down…."
The White Lion ancestral Heartlands will be your base of inspiration for painting nature's King of Kings. This part of the inspirational journey will be focused on capturing the essence of these luminous animals in paint.
Dawn and dusk lion tracking sessions into the White Lion pridelands, will be followed by days of reflection and gentle journeying into inspirational Inner Worlds and artistic expression. Allowing you to expand your artistic horizons surrounded by nature's creative bounty.
Founder of the Global White Lion Protection Trust, Linda Tucker will take you on a journey of illumination and empowerment, sharing White Lion techniques to help us integrate the principles and qualities of these most radiant of animals in our own lives. Tuning in to these qualities helps us to achieve greater self-fulfilment, self-healing, leadership potential and artistic expression. Spend time in silent meditation, thanksgiving for the White Lions and enlightened knowledge from the Star beings, integrating the United Spirit across time, continents and species.
Enjoy a picturesque excursion into the culture of the Tsonga people, joining Chief Harmony Khosa (principal guide) and Matimba (his brother); nephews of Maria Khosa, Lion Queen of the Timbavati; for a visit of their ancestral home. Enjoy a delicious traditional dinner, with warrior dancing around the fire drumming up the excitement of the heart and soul of Africa in the presence of the Ancestors of these sacred lands.
As you leave for your onward journey you will have a great sense of knowing that you have re-established your soul connection with Mother Nature and that you carry the force of the Rhino and Spirit of the Sacred White Lions of Timbavati with you always.
All artworks produced from this expedition are eligible for entry into the Rhino and White Lion competition. For more information on the competition click here or email rhinolioncomp@gmail.com, or join our Facebook Page.
To download the full itinerary click here
To book or for more information please email Julie on info@whitelions.org
We look forward to welcoming you on this unique and incredible experience.
Images supplied courtesy of Leshiba Wilderness.