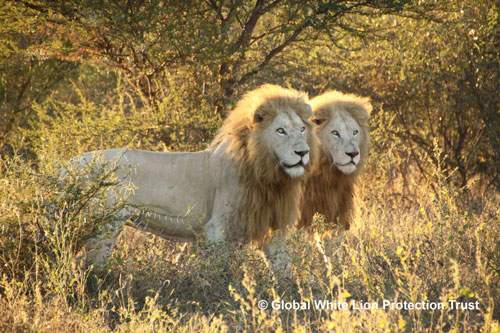 Only 3,100 Wild Lions Left in SA!!
by Jason Turner
Below is an article that appeared in the Cape Argus last weekend.
The stats speak for themselves – lions are in crisis, and they need our urgent protection. Of the 3,100 wild lions in South Africa, about 1,900 lions can be found in the Greater Kruger Park Region, and of these only 14 are white lions. White lions occur naturally in this region, contributing to the biodiversity of the region, having significant cultural importance to the Shangaan and Sepedi Communities, they are the ideal flagship animal for protecting the lion population in the Greater Kruger Park Region. And with the recent birth of 3 white cubs in the Timbavati to one of the Xakubasa white lionesses, the white lions continue to prove their resilience and that they are a natural part of the ecosystem.
We all need to take urgent action to ensure the survival of all of our lions, the apex predators, to ensure that they will be here for future generations and for the survival of the ecosystem as a whole.
ALARM AS ONLY 3,100 WILD LIONS LEFT IN SA
By Jim Freeman
A century ago, there were more than 200,000 wild and free-ranging lions in Africa.
Now there are fewer than 30,000, about 10,000 of these in South Africa.
However, two thirds of these are in captivity and the overwhelming majority are bred for hunting, according to Wilderness Foundation chief executive Dr Andrew Muir, who believes the world is in danger of losing one of its "iconic species".
Addressing a charity auction at the One & Only hotel this week, which secured about R 400,000 for lion anti-poaching operations, Muir said it was "alarming" that there were only about 3,100 wild lion left in South Africa.
"I am embarrassed to say, as a conservationist, that 65 percent of the lions in this country are captive.
"We are the only country in the world that has this unnatural imbalance and, while we have done extraordinary work in recovering wildlife populations, for commercial reasons we have forsaken lions to the extent that most of them exist in "canned" situations.
Muir said it was "very difficult to draw a line between what is legal and what is illegal when it comes to hunting lions". "What is true, though, is that poaching has increased immensely over the past 15 years. It's heart-breaking when an iconic animal is worth more dead than when it is alive".
He added that captive lions and their cubs could never be released into the wild, so they had no value from a conservation perspective.
Lions had vanished from 80 percent of their historic range. They were extinct in 36 countries and lived in the wild in only 29 countries – in India and 28 African countries.
'Only seven countries are believed to each have viable populations of more than 1000 free-ranging lions – Botswana, Ethiopia, Kenya, South Africa, Tanzania, Zambia and Zimbabwe.
Lions "are important not only because they are charismatic. When your lion populations are stable you know the ecosystem is in equilibrium and functioning like it should".
(Article supplied courtesy of the Argus Weekend Paper, Cape Town)