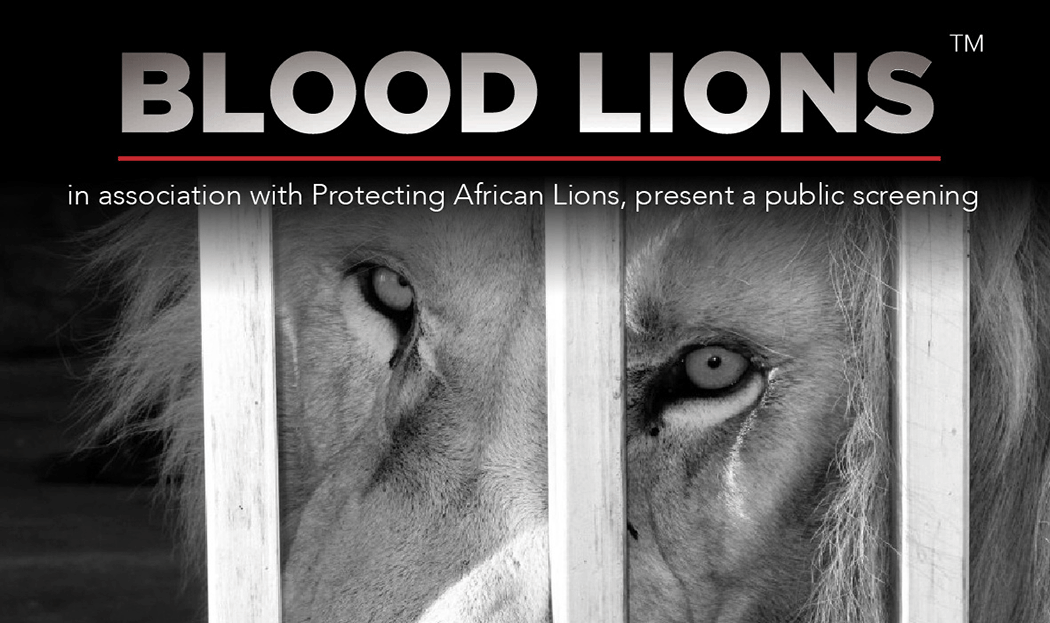 Blood Lions now showing in London, UK…
The Global White Lion Protection Trust in partnership with P.A.L (Protecting African Lions) will be screening the compelling full length documentary Blood Lions on the 28th November 2015 at 14h30. The screening will follow on from the March for Cecil which will be held in Trafalgar Square, London, UK at 12h00.
Tickets to Blood Lions: Click Here
To find out more about the March for Cecil: Click Here
You are all invited to join the March and/or Blood Lions, so please share with all your friends and family.
Blood Lions – the documentary
This shocking and compelling one-off documentary takes you inside South Africa's lucrative trophy hunting industry, showing in intimate detail how much money is made in breeding lions, and how the authorities and most professional hunting and tourism bodies have become complicit in allowing this industry to flourish.
Blood Lions exposes the truth behind the multi-million dollar lion hunting and breeding industry in South Africa. It follows acclaimed environmental journalist and safari operator Ian Michler, and Rick Swazey, an American hunter, on their journey to uncover the realities about the predator breeding and canned lion hunting industries in South Africa.
It is a story that blows the lid off claims made by these operators in attempting to justify what they do. Last year alone over 800 captive lions were shot in South Africa, mostly by wealthy international hunters under conditions that are anything but sporting.
Ian has been following this story since 1999, and he goes onto the breeding farms to witness the impacts that decades of intensive breeding is having on the captive lions and other predators.
Blood Lions is a compelling call to action and shows how you can get involved in a global campaign to stop lions being bred for the bullet.
Please note: this is the full length version of the documentary, the TV screenings of this are edited versions.
The format of the day
12h00 – March for Cecil – Details to be confirmed
14h30 – 17h30:
Screening of Blood Lions at Birkbeck College, 20 minutes walk from the March for Cecil
Question and Answer session with key members of Blood Lions, Protecting African Lions and the Global White Lion Protection Trust
We will then be holding a charity auction for the cause with many lion related prizes. Merchandise from each of the Organisations will also be available to purchase.
Linda Tucker and Jerome Flynn in attendance..
We have also just been informed that Linda Tucker, CEO of the White Lion Trust, and Jerome Flynn, acclaimed actor and patron of the Global White Lion Trust will be joining us for the event!!
All proceeds from this event will go to Blood Lions and The Global White Lion Protection Trust.
We look forward to seeing you on the night.
Don't miss out…
If you are not able to join us – Born Free have a screening of Blood Lions on Friday the 27th November 2015 at 7pm,  click here to go to Born Free Website to book for their event.
To book tickets